Webinar on Wellbeing: Mental, Physical and Social aspect of Working and Non-Working Females in this Stressful Pandemic Time
November 30, 2020 (Monday) 11:00 am -2:00 pm
MODE OF CONDUCT: Google Meet
Sponsored by National Commission of Women
Days
Hours
Minutes
Seconds
RDIAS is organising a webinar sponsored by National Commission of Women on the theme "Wellbeing : Mental, Physical and Social aspect of Working and Non-Working Females in this Stressful Pandemic Time". The webinar would be dwelling around three areas of female wellbeing that is mental, physical and social wellbeing during this stressful time of complete lockdown and upcoming unlocking period in phases. The session would be interactive with hands on experience from the experts in various areas. In addition, the webinar would be focussing on mental distress, and practical interventions planned to improve mental wellness done through wellbeing, resilience, and optimistic mind-set.
To address various areas and dimensions of wellbeing to all participants
To provide inputs from experts to handle this stressful time in a positive manner.
To provide hands on experience to tips to improve Mental, Social and Physical wellbeing
All the females belonging to any age group, profession are eligible to enroll in this programme and gain an insight into Wellbeing and make her as well as her entire family a better place.
Dr. Rachna Khanna Singh is an acclaimed Mental Wellness, Lifestyle, and Relationship expert who has been practicing for over 20 years. She is the HOD of Holistic Medicine at Artemis Hospital, Gurgaon and also the Founder Director of The Mind and Wellness Studio. Dr. Rachna is routinely featured in the media. She is a columnist for TOI and has a radio show on 104.8 FM. She has been actively involved in Institutional Lectures, Awareness Workshops, Corporate Workshops for better mental health of the citizens.
Dr. Arhat Chhabra, Practicing Integrated Homeopathic medicine integrated with clinical nutrition, healing yoga & meditation at Healing Temple Dr Arhat Homoeo Clinic. A Homeopathic doctor since 12 years BHMS, MD , CIN (Clinical nutrition) Leading homeopathic physician registered with Homeopathic board of Delhi and an has an expertise in acute conditions including Gastrointestinal and Respiratory infections, children's health ,skin disorders and growth related issues, treatment of chronic diseases like diabetes, cardiac and renal conditions, gynecological complaints like pcos, fibroids. Renowned for combining homeopathic remedies with clinical Nutrition guidance, therapeutic yoga and meditation support for fast effective and safe cure. Established 2 Clinics with satisfied patient base of 20, 000 + across Delhi/NCR, India, UAE, US,UK.
Awards and Honors: Awarded with prestigious "HAHNEMANN AWARD " in 2010 by the Government of Delhi for the meritorious works undertaken in the field of Homeopathy. Felicitation for excellence in homoeopathy by Hahneman college of Homoeopathy University london University of West London UK in year 2015.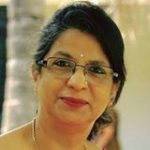 Dr.Mala Sinha is former Professor of Business Ethics and Organizational Behavior at Faculty of Management Studies (FMS), University of Delhi. She obtained her doctorate in Psychology from University of Allahabad as UGC Fellow; and has published in the area of indigenous values and management principles from Indian scriptural philosophies in journals and edited books. She has presented her work in international conferences and is corporate trainer with public and multinational organizations and has consulted for WHO and World Bank. Presently she is mentoring the women empowerment program at Akhand Jyoti Eye Hospital and researching on its social impact. Mala also a published poet writes short stories and paints.
Ms. Madhulika Makar Post Graduated from IMT, Ghaziabad and graduated from Miranda House, Delhi University is a part of the founding team at Triedge.in an integrated online HR platform. Triedge currently partners with over 2000 institutes across India in the careers, jobs, internships, education and training space. She is also an executive council member of CII –IWN (India Women Network) & heads the Thought Leadership panel for the Delhi Chapter. Having a rich experience of more then 20 years, have been actively involved in conducting workshops on Negotiation Skills, Leading Teams , Talent Acquisition Certification Workplace Etiquettes, Women Leadership etc. to name a few.
Certificate of Participation
E-certificate of participation will be provided to all the participants, who will successfully register and fill the feedback from after completion of session.
Concept of well being inclusive of Physical, Mental and Social Wellbeing
Introduction to concept of Wellness/Wellbeing.
Practical interpretation of concept of Wellness/ Wellbeing.
Mental Health and Disorders.
Status of Women in India and mental disorder Social wellbeing.
Definition and concept.
One to One counselling will be provided by the experts if need arises.
Participant's will be able to understand and apply the concept of well being and it three dimensions for the welfare of the entire family.
Participant's will be able to set up SMART advancement goals for their Mental ,Physical and Social wellbeing.
Identify a range of strategies to support wellbeing of one's own self and family.
Participate in knowledgeable discussions on the effect of Mental ,Physical and Social wellbeing on development.
End date of registration November 30,2020
Ms. Deepika (Convener)
Email id :- deepika.varshney@rdias.ac.in
Phone:9999364800
Rukmini Devi Institute of Advanced Studies 2A & 2B, Phase-1, Madhuban Chowk, Outer Ring Rd, Block D, Sector 14, Rohini, Delhi, 110085