E-FDP ON Outcome Based Education
(A special Focus on NAAC & NBA Accreditation)
25 January 2021 – 30 January, 2021
9:00AM to 11:30AM, Mode: Google Meet
Days
Hours
Minutes
Seconds
The development of professional graduates requires an independent practice consists of two essential processes. First, a set of predominantly educational requirements that are satisfied through an accredited education programme. Second, the graduates made follow a process of training, experience and further learning that develops the competence required in their profession. To incorporate this system at educational institute, there is a need to have a well-developed mechanism of teaching learning process which is facilitated by The Washington Accord.
RDIAS is organising one-week E-FDP on "Outcome Based Education". The FDP will focus on outcome based education, teaching learning practices at institute, PEO, PO, PSO and CO formulation, taxonomy of learning, categories of knowledge, computation of CO and PO, few important aspect of SAR report and other related component of outcome based education too. Of late academic practices are changing and now it becomes need of hour to focus on outcome-based education. In the process of implementing OBE at educational institute certain level of awareness is mandatory. The FDP will focus on all pertinent aspect of OBE along with accreditation process. Accreditation is a process of quality assurance and improvement, whereby a program in an approved institution is critically appraised to verify that the program continues to meet the norms and standards prescribed by regulatory from time to time. The change agents in the academic system are the faculty members and they are expected to have the clear understanding of mapping the existing curriculum to the expected graduate programme outcomes through the courses they teach adopting outcomes based approach.
Director, HODs, IQAC Convener and members, faculty members who are engaged in the implementation and management of quality system
A mix of pedagogical techniques will be used i.e. lectures, discussions, presentations and exercises. Hands on experience will be delivered on the same.
To gain understanding of Outcome based education process
To enable the participants to gain knowledge about CO-PO mapping
To provide information regarding preparing SAR/NAAC report
Certificate of Participation
E-certificate shall be provided to all the participants who will successfully register and fill the feedback form after the completion of E-FDP.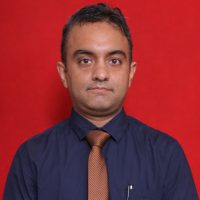 Mr. Deepak Chhabra
Assistant Professor, RDIAS
Mr. Deepak Chhabra Sir is a certified Neuro-Linguistic Programming (NLP) Practitioner from The Academy of Modern Applied Psychology, Scotland, UK and takes a keen interest in designing Industry- centric Training Programs and Mentorship Modules. Having been associated with Rukmini Devi Institute of Advanced Studies, sir looks after the Industry Readiness of MBA students as part of the Corporate Training Program – an initiative by RDIAS towards nurturing socially sensitive leaders of a promising tomorrow. With a corporate experience of close to six years, Sir has managed teams to the best of their potential. Afirm believer of freedom at the workplace, his ideology centres on being an enabler thus, enabling an environment which results in an ecosystem of change.
Dr. Sunil Kumar
Assistant Professor, RDIAS
Dr. Sunil Kumar Currently working as an Assistant Professor in Department of Management Studies at Rukmini Devi Institute of Advanced Studies, Delhi. He has completed his Ph.D from Jamia Millia Islamia, New Delhi in the area of NGO Management. He has presented paper at IIT, IIM and other Institution of repute. He has published research papers in Emrald, Inderscience, UGC Care and journals of repute.
Ms. Nidhi Sharma
Assistant Professor, RDIAS
Ms. Nidhi Sharma Currently working as an Assistant Professor in Department of Management Studies at Rukmini Devi Institute of Advanced Studies, Delhi. She has submitted her Ph.D at JU, Jaipur in the area of Organic foods and consumer behaviour. She has 10 years of teaching experience and working as IQAC Convener at RDIAS. She has presented papers at IIM, Central Universities and other institution of repute. She has published research papers in various journals of repute.
Role of brain in learning process
Teacher's role as educators
NBA Accreditation
Demonstrate the basic philosophy of Outcome Based Education
Direct and Indirect assessment tools for
Measuring attainment of COs and POs
Prequalifies for accreditation process
Process of developing vision & mission of Institute/Department Developing courses outcomes (COs), PEOs and PSOs
Alignment of Vision and Mission with institute POs and PSOs
Understand the taxonomy of learning
Bloom's Taxonomy Action Verbs
Importance of Action Verb and Perception in deciding Knowledge Level
Identify, design and deploy appropriate assessment tools for COs and POs
Attainment of CO, PO & PSO
Mapping of COs & POs, Importance
Identify the scope for continuous improvement and to propose corrective measures
NAAC Accreditation and its Importance
Preparation of SSR and AQR
Understanding of NAAC Revised Accreditation Framework
Registration Fee Rs. 500 Per Participants
The registration fee can only be paid through online mode and link for the same is available in registration form.
Registrations invited on first come first serve basis. The Last Date for Registration and Fees Payment is Jan 22, 2021 or availability of seats whichever is earlier.
SHARE THIS EVENT ON SOCIAL MEDIA
Rukmini Devi Institute of Advanced Studies 2A & 2B, Phase-1, Madhuban Chowk, Outer Ring Rd, Block D, Sector 14, Rohini, Delhi, 110085