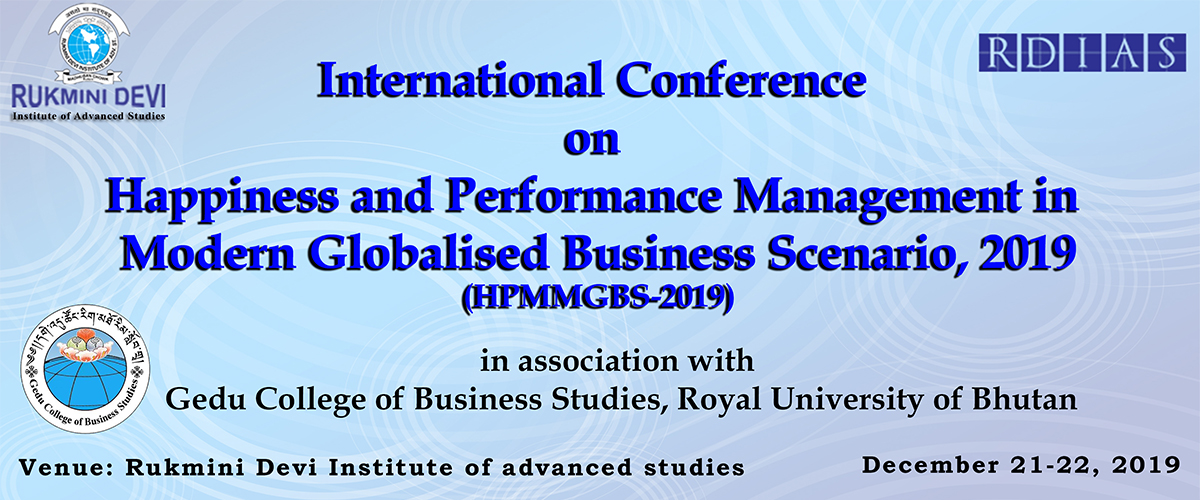 Present technological world has provided immense facilities to work force. Materialist things are more approachable from B2C and B2B. On the same time harmony and happiness are decreasing due to lack of patience and cooperation. Therefore a conference on this emerging topic is need of the hour. This Conference provides a potential opportunity to connect, exchange and network with academicians, business leaders, researchers, Bhutanese and Indian experts on HAPPINESS AND PERFORMANCE MANAGEMENT IN MODERN GLOBALISED BUSINESS SCENARIO, 2019
Objectives
The International Conference on PPHHGCW-2019 has the following objectives:
• To provide a platform for participants to connect and collaborate in further research initiatives.
• To share and exchange the experience and views of leading Academicians, Corporates, Researchers and Scholars about the theme of the Conference.
• To share the knowledge of various participants on the Emerging Trends in Management Practices.
• To collect and collate the experiences and views of different participants and derive at an optimized and beneficial outcome of the Conference.
About Gedu College of Business Studies, Royal University of Bhutan
Gedu College of Business Studies, located at Gedu, Chukha, is the only premier college under the Royal University of Bhutan that offers full time contemporary business and management education in the country.
The establishment of a business college was first conceived by His Majesty the Fourth King. Therefore, the then National Assembly members resolved to establish one at Gedu in its 85th session. The Gedu College of Business Studies is located at the campus which was developed by the Tala Hydropower Project Authority (THPA) – a joint project between the Government of India and the Royal Government of Bhutan.
Then, the Royal University of Bhutan shifted the faculty of Commerce and its students from Sherubtse College to the this business college in 2008. GCBS offers three programs i.e. MBA, BBA and B.Com with specialisation in Entrepreneurship, Accounting, Finance, Marketing and Human Resources. Ever since its establishment GCBS has set high standards in terms of management education, research and consultancy.
All participants are requested to register by filling the online registration form. One author must get registered for inclusion of the paper in proceedings book publication. A single author presenting multiple entries should register for each paper. No TA/DA will be paid to any delegate who presents the paper in the conference. Registration including GST of 5% (Government Tax)
Important Dates:
| | |
| --- | --- |
| Full paper submission | August 31, 12019 |
| Full paper acceptance | September 15, 2019 |
| Early bird registration | September 15, 2019 |
| Last date to register | October 20, 2019 |
| Last date to Register with late fee. | November 20, 2019 |
| | |
Area/Tacks of the conference:
Track-1: Culture of Happiness at Workplace
• Workplace Sanctity
• Devoutness for work efficiency and decision making
• Overcoming Stress at Workplace: Spirituality helps
• Dimensions of happiness for women at workplace
• Role of happiness in building a meaningful life and quality of work life
• The happiness quotient of job
• Happy organizations, positive organizational interventions
• Organizational culture and happiness
Track-2: Happiness & Harmony: The Thoroughfare to Personal & Societal Well Being
• Happiness index
• Subjective wellbeing: The path to happiness
• Women as source and pivot of happiness in families
• Structural inequalities that limit happiness
• Human development and happiness
• Self-Compassion: The key to happiness
• Happiness as the consonance between internal and external harmony
• Harmony with nature: Avoiding conflicts, creating conducive eco-systems and developing environmental consciousness
• Happiness economics
• Psychology of happiness: Neuroscience based wellbeing measures
• Contemporary perspectives on societal happiness and harmony
Track-3: Spiritual Happiness: Discovering a World Within
• The ontology of spiritual happiness
• Synergistic blending of happiness and harmony with Spirituality
• Spiritual well-being for improving health, happiness and harmony
• Spirituality for common man
• Spirituality in practice work life balance and employee well-being
• Crisis prevention & spirituality
• Emotional Health: spiritual health; spiritual quotient
• Role of spirituality in dealing with the dark side of life
Track-4: The Diverse Connotations of Happiness
• Cultural forces that shape attitudes toward happiness
• Social Progress, Social Capital
• Metrics of Societal happiness
• Measurement of happiness in different cultural context
• Happiness in traditional media (TV, film, theatre, print), social media and the Internet
• Happiness in literature, arts and popular culture
• Capturing wisdom from religion and philosophy
• Law, public policy and happiness
• Economic and social initiatives to enhance well being
• Inter-disciplinary approaches of professional disciplines for solving human problems
• Developing technologies for human welfare
• Sustainability of spirituality in the world of technology, robots and artificial intelligence
Track-5: Happiness and performance : The Sustainability Paradigm of Business
• Performance and sustainability of business environment
• Spiritual perspective of Capitalism and Consumerism
• Reinventing Business Ethics through spirituality
• Global Organizational and professional ethics
• Harmonious co-existence of performance and spiritualism
• Happiness and Wellbeing in Education
• performance based higher education
Track-6: Global Heritage of Happiness in globalised realm
• The Narratives of Happiness: Early eastern ideologies
• Wisdom from West: Postmodern notions of happiness
• Indian spiritual foundations for modern management
• Globalizing the Indian models of happiness and harmony
• Role of spiritual harmony in international relations
• Impact of cultural values on conceptualizations of happiness around the world
• Spiritual Legacy of India
S. No.
Category
Early Bird

23-9-2019

On or before

20-10-2019

With Late fee

20-11-2019

1.
Research Scholars/Students
1,500 INR
2000 INR
2,500 INR
2.
Academicians
3,000 INR
3,500 INR
4,000 INR
3.
Industry Professionals
4,000 INR
5,000 INR
5,500 INR
4.
Foreign delegates
200 USD
250 USD
300 USD
Presentation by author(s) is for 10 – 12 minutes
Discussions/Questions and Answers for 3 – 5 minutes
Authors have to mail their presentations to conference email ID ibconference@rdias.ac.in
Audio – Visual support to the presenters will be provided for presentation
Oral presentation – We invite you to take an advantage of oral presentation of your paper/research on site and get the first hand remarks and comments from the audience. We will encourage a live discussion regarding the presented topic and network with other researchers and academics in the field of education and related areas, from around the globe.
Video presentation – Registered authors who are not able to attend the conference in person may opt for this format. Participants will watch either your recorded presentation or will be following it through a live stream. They will be able to ask the questions either in a real time through the internet connection or may fill in the reflection forms which we will be mailing back to you, if requested.
Publication
The peer-reviewed conference papers will be published in
Inderscience Special Issue – International Journal of Public Sector Performance Management (IJPSPM):
indexed in: Scopus (Elsevier), Academic OneFile (Gale), cnpLINKer (CNPIEC), Business Collection (Gale), Google Scholar. IJPSPM is listed in: Australian Business Deans Council (ABDC) Journal Rankings List, Cabell's Directory of Publishing Opportunities.
Effulgence-RDIAS: Peer reviewed management journal indexed in UGC, J-Gate, Indian Citation Index and Crossref.
Edited Book of International publisher.
**Dates for publication in any of the aforesaid publications will be informed just after the conference through emails of the respective authors.
The conference also features track wise best presentation.
Guidelines for Authors of full Paper
Author should send two files (in .doc/.docx/.pdf) i.e. one containing the title of the paper; name of the author's organizational affiliation; complete mailing address; mobile number; and active e-mail address. Other should be the full manuscript along with the abstract. There should not be author name, affiliation, or any other such information in the manuscript file.
An electronic version of the Title page and Manuscript in MS Word / PDF format should be sent to ibconference@rdias.ac.in.
Manuscript should be of minimum 3500 words, excluding tables, graphs & charts and maximum of 8000 words.
References should be in line with the APA (American Psychological Association) Guidelines.
All the authors/contributors have to submit in original the duly signed copy of the Certificate of Originality and Copyright form Guidelines for Presenters. The conference will have different technical & parallel sessions. Each session shall be chaired by an expert from academia/industry
A Soft copy (MS Word) of the full-length paper, to be sent latest by August 31, 2019. Each contribution should be organized in the following order:
Abstract (outlining the purpose, scope and conclusions of the paper)
Introduction
Literature Review
Objectives of the Study
Research Methodology
Analysis
Results/Findings
Implications of the Research
Conclusions or Summary
References & Citations
Appendices (wherever applicable)
Font Style: Time New Roman, Font Size: 12 points (for manuscript content), 14 points (for heading), Line spacing: 1, Column: Single column format, Keywords: at least 5 with JEL Classification, Alignment: Justified, Page margin: 1 inch (all around), Tables and figures: Tables and figures should be numbered consecutively in numerals and should be referred to in the text as Table 1, Table 2, Fig 1, Fig 2 etc., Graphs: The minimum amount of descriptive text should be used on graphs and drawings and axes should be labelled with variable written out in full, along the length of the axes, with the unit in parenthesis.
Paper Submission:The full paper in the aforesaid format is to be sent to the conference email Id ibconference@rdias.ac.in by August 31, 2019. The subject of email must be labelled with the paper id. Submissions must be plagiarism free and is subject to double blind review process. Only accepted papers which are presented (oral presentation only) during the conference will be eligible for submission for book publication/journal publication. The experts will review the full paper and based on reviewer remarks the papers will be accepted/rejected. Acceptance of the paper implies that at least one of the authors will register and attend the conference and present the paper.
International Conference on HPMMGBS-2019 Review Process
• All submissions will strictly go through a plagiarism check, only those submissions which pass through plagiarism check will be double blind review process constituted of experts from Institutions/ Universities/ Organizations of repute in and outside India. Plagiarism check will be done through turnitin tool.
• It is to be noted that we consider similarity up to 10%.
• Only original, unpublished work is sought. Any proposal submitted to present identical or substantially similar work already published, under review for another conference or publication will not be considered.
• In the covering letter accompanying the manuscript, the contributors should certify that the manuscript has neither been published anywhere nor is it at present being considered anywhere for publication.
• The blind review expert committee will screen the papers. Full length paper should not be more than 8000 words (Maximum 10 pages). Tables, illustrations, charts, figures etc. should be serially numbered and duly acknowledged.
• Sources of the data need to be given below each table. Only those references that are actually utilized should be included in the reference list and should be alphabetically arranged. For complete paper guidelines visit http://events.rdias.ac.in/inc2019/.
Chief Patron
Shri. K. C. Garg
Founder President, SPMES
Chairman, RDIAS
Patrons
Prof. (Dr.) Raman Garg                                                 Ms. Namita Garg
Director, RDIAS                                                Dean Placements, RDIAS
Convener
Dr. Madhu Arora
Co-Convener
Ms. Akanksha Upadhyaya                                          Ms. Bhajneet Kaur
Inderscience publishers have approved our humble submission for Special Issue for – International Journal of Public Sector Performance Management (IJPSPM). The journal is indexed in: Scopus (Elsevier), Academic OneFile (Gale), cnpLINKer (CNPIEC), Business Collection (Gale), Google Scholar. IJPSPM is listed in: Australian Business Deans Council (ABDC) Journal Rankings List, Cabell's Directory of Publishing Opportunities. Selected papers which are presented in the conference will be offered online submission to inderscience. Dates will be informed just after the conference.
Editor in Chief: Prof. Leo Paul Dana
This special issue welcomes qualitative as well as quantitative and mixed methodologies, as long as they are well grounded in the literature. Please refer to the following articles:
Dana, L.P. & Dumez, H. (2015) 'Qualitative Research Revisited: Epistemology of a Comprehensive Approach,' International Journal of Entrepreneurship & Small Business 26 (2), October 2015, pp. 154-170.
Dana, L.P. & Dana, T.E. (2005) 'Expanding the Scope of Methodologies Used in Entrepreneurship Research,' International Journal of Entrepreneurship & Small Business 2 (1), 2005, pp. 79-88.
Contact Details
Dr. Madhu Arora, Convener

Rukmini Devi Institute of Advanced Studies
2A & 2B, Phase-1, Madhuban Chowk, Outer Ring Road, Rohini, Delhi-110085 Phone:- 011-27864596, 27867301
Fax: – 011-27867212 E-mail -: admin@rdias.ac.in Website: www.rdias.ac.in